Issue > Editor's Note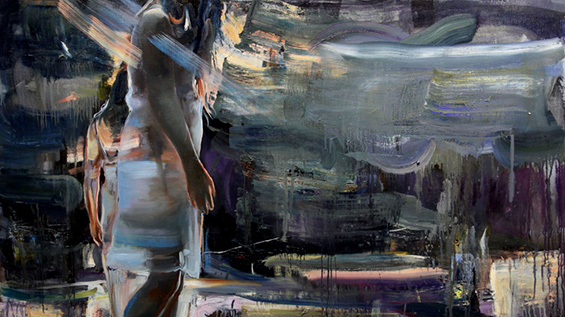 River of Forgetting
Oil on Linen 40" x 58"
by
Mira Gerard
Editor's Note
The Cortland Review dedicates its Issue 74 to the memory of Thomas Lux: 1946-2017.

"River of Forgetting," Mira Gerard's cover contribution, "is based, Mira says, on the Greek myth of the river Lethe, in Hades. The Greek word for truth is "alethea" which literally means "un-forgetting." "I was thinking," she says, "about the way that sadness causes us to forget, to un-remember and, therefore, go away from the truth."

Mira earned her BFA from Indiana University in Bloomington and her MFA from The University of Georgia in Athens. Mira makes paintings of the figure as a way to understand desire, and her work is informed by Lacanian psychoanalysis, the practice of speaking freely without preconception. "Psychoanalytic discourse and painting," she says, "both allow for impulses, slips and interventions of the unconscious to emerge and interrupt the picture or story being conveyed." Would you agree that happens in a Thomas Lux poem, too?

Widely published and exhibited, Mira lives and works in Johnson City, Tennessee, where she is Chair and Professor of Painting at the Department of Art & Design at East Tennessee State University.

Issue 74 features new poems by Justin Belote, Roger Desy, Doris Ferleger, Max Heinegg, Liza Katz, Collin Kelley, Candice M. Kelsey, Christopher Todd Matthews, Jason Morphew, Gerardo Pacheco Matus, Al Rocheleau, Don Schofield, Sarah V. Schweig, John Stanizzi, Gregory Stapp, Terese Svoboda and Derek J.G. Williams and new fiction from James Robert Campbell and Megan Staffel.

As The Cortland Review remembers its friend, Thomas Lux, we celebrate, too, those who are somewhere making the next issue possible: Contributing Editors Chard deNiord and David Rigsbee, Poetry Editors Anna Catone, Christian Gullette and Jennifer Wallace; Fiction Editor Elizabeth Cornell, Managing and Social Media Editor Amy MacLennan, Associate Editor Eric Berlin, Audio Editor David Moody, Photo Editor Rick Tracy and News Column Editor Dallas Lee, as well as, proudly, Founder and Editor Emeritus Guy Shahar. As always it's you, our readers--it's you we do it for--that we celebrate most.

To find Thomas Lux's appearances in The Cortland Review, beginning in 1999, click here for a list from our archives. Rest in Peace, Tom.
Ginger Murchison
Editor in Chief