Issue > Editor's Note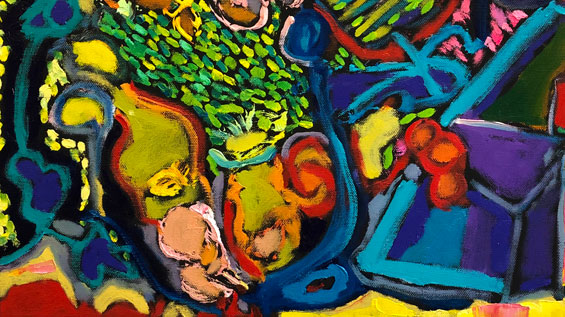 (see full image)
German Garden (Weather Report)
2019, oil on canvas
by
Wayne Koestenbaum
Wayne Koestenbaum–poet, critic, artist, performer–has published nineteen books, including
Camp Marmalade, My 1980s & Other Essays, The Anatomy of Harpo Marx, Humiliation, Hotel Theory, Andy Warhol, Jackie Under My Skin,
and
The Queen's Throat
(nominated for a National Book Critics Circle Award). His next book, a collection of essays, Figure It Out, will be published by Soft Skull in May 2020. He is a Distinguished Professor of English, French, and Comparative Literature at the City University of New York Graduate Center. Find him at
www.waynekoestenbaum.com
.
Editor's Note
It's my great pleasure to introduce Issue 83 of The Cortland Review with truly stunning cover art by Wayne Koestenbaum! We're so fortunate to feature this extraordinary poet, critic, novelist, artist, and performer on our cover.

Issue 83 is one of our largest issues ever, showcasing original poetry and translation in a gathering of phenomenal poets that includes Tory Adkisson, Cynthia Atkins, Simon Anton Niño Diego Galera Baena, Daniel Barnum, Nathan Blansett, Julie E Bloemeke, Daniel Bourne, Jo Brachman, Conor Bracken, Christopher Citro, Mary Crow, Andy Eaton, Jennifer Franklin, Janlori Goldman, Jose Hernandez Diaz, Alison Hicks, Michael Homolka, Rogan Kelly, Peter Kline, Rodney Terich Leonard, Tj Mampalam, Laura Marris, Michael Montlack, Amanda Moore, Tanya Muzumdar, João Luís Barreto Guimarães translated by Calvin Olsen, Simon Perchik, Sarah Perrier, Megan Pinto, Deborah Pope, Denzel Xavier Scott, Leona Sevick, José Sotolongo, Page Hill Starzinger, Memye Curtis Tucker, Laura Van Prooyen, Hilary Varner, John Sibley Williams, and Stella Wong.

We've also expanded our reviews and interviews offerings this issue! Clara Burghelea reviews of Ruth Danon's Word Has It, accompanied by Shauna Gilligan's interview of Ruth Danon. Kim Jacobs-Beck reviews Myung Mi Kim's Civil Bound, Lindsay Lusby reviews of Aviya Kushner's Eve and All the Wrong Men, and David Rigsbee reviews of Marianne Boruch's The Anti-Grief.

This issue, we've selected Taneum Bambrick's award-winning collection Vantage as the featured book! Winner of the APR / Honickman First Book Prize, it's a stunning and unflinching look at the intersections of desire, the ecological, gender and masculinity, income inequality, and notions of the material and how we value /devalue and salvage objects, bodies, and intimacies. These are truly unforgettable poems in a powerful debut collection.

As always, many thanks to the staff of TCR for their dedication and hard work in putting this issue together. This is an entirely volunteer staff, and I'm so grateful for all the hours they dedicate towards making it possible to feature this incredible writing and art.

Enjoy the issue!

Christian Gullette