Issue > Editor's Note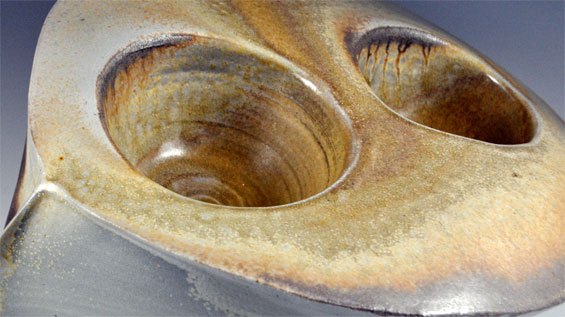 Editor's Note
Clay artist Charlie Barmonde, heavily influenced by his experience as a mariner, creates captivatingly graceful forms "to inspire reflection on the role of technology in our lives and the interface between humanity and the natural world." "A ship, by design," he says, "has to work within the parameters nature sets forth, and a mariner must profoundly connect with these forces. Elementally though, a boat, while requiring a deep and honest connection to natural forces, is a technology and therefore a barrier between man and nature." Charlie trusts sight to bridge that gap.

Born in 1976, Barmonde began working with clay in high school. With a degree in ceramics and art history from Marlboro College in Vermont, he has plied his craft in Vermont, Florida, New York City and, since 2003, on the south coast of Rhode Island. In 2009 he graduated from UMASS Dartmouth's post-baccalaureate program in ceramics. Charlie is represented in collections nationwide and has earned the distinction, "Best of Rhode Island 2011." See Barmonde's past and current work at his Little Compton ceramics studio: barmondestudios.com and visit Charlie at Barmonde Ceramics on Facebook.

Issue 57's nineteen poets and five fiction writers probe the depth of humanity through the technology of The Cortland Review. Turn on your sound and take in these TCR family distinct voices. Be sure to explore what's new about The Cortland Review:
Check us out on Facebook and follow us @CortlandReview on Twitter
access us on your iPad or iPhone
Get the latest poetry news, now updated weekly on our home page.

Click on our Poetry Streamer where all 1000 poets in our pages will be randomly selected. You'll see the poet's photo and hear the poem one after another continuously streaming. You never know who will pop up. Maybe even you.
Watch for our upcoming Special Features on Carolyn Kizer, Gregory Orr and Poet Laureate, Natasha Trethewey.

Are you a Photoshop expert? An HTML whiz? an audio guru? The Cortland Review is building a deeper technical staff and is looking for poetry lovers with skills in these areas. If you're interested in volunteering to serve the art form, send a brief note with your resume and a cover letter.

Cheers,
Ginger Murchison
Editor