David Rigsbee

David Rigsbee
is the author of
The Red Tower: New and Selected Poems
just published by NewSouth Books and of two upcoming collections,
The Pilot House
and
School of the Americas
, both from Black Lawrence Press. He is contributing editor to
The Cortland Review.
David Rigsbee reviews "Father Dirt" by Mihaela Moscaliuc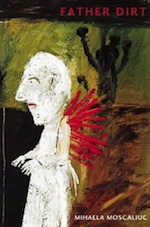 Father Dirt
by Mihaela Moscaliuc
80 pages
Alice James Books
Buy this book through our Amazon.com bookstore and support The Cortland Review.
Marina Tsvetaeva once remarked, "all poets are Jews." It is the condition of the poet—socially marginalized, spiritually central—that both provides the down-and-dirty equivalent of a God's-eye-view of human behavior and history and gives the poet her bona fides with respect to authentic speech. How much more relevant the irrelevance of Gypsies, those gleaner-wanderers of uncertain provenance? Now renamed Roma, combining both a national identity (Romania) with a rebranded cultural imprimatur (Rome), this population retains its mythological status as outsiders. In the context of what most of us probably surmise Romanian society to be—i.e., as fringe Europeans—the Roma are Jews' Jews. As for how they fared in the annals, ask anyone with first-hand knowledge of the thinking, from the Teutonic right to the Iron Curtain left, concerning where this race was headed. Mihaela Moscaliuc's Father Dirt is the debut collection of an American-Romanian poet, who grew up under Ceausescu and arrived in the States in 1996, after the parting of the Iron Curtain. Like a number of other émigré poets, Moscaliuc finds much matter in the systematic duplicities of state Communism, and whether that matter finds its response in outrage, satire, or elegy, it succeeds by holding a mirror to a mirror. Between the fate of the Roma at one end and the dictates of Communism at the other, Moscaliuc finds a doleful spectrum, in which ordinary people managed to maintain (or not) their humanity in the midst of constant surveillance, forced optimism, and brutal discrimination.

While the judgment of literature on history does not favor the latter, it does enjoy a good deal of discretion in the imposing of its sentence. There is a tradition among modern Eastern European poets of rendering the harshest of judgments by pronouncing the malefactors and their mindset absurd and doing so by following the trail of consequences with a straight face. The surrealism on the ground is the new realism, as everyone from Mandelstam to Popa to Herbert to Szymborska knew. While she tempers the sometimes marmalade quality of surrealistic presentation into a more documentary style suitable to the era of video and CNN, she retains surrealism's sense of the absurdity. What she also adds is an acknowledgment of the price paid by truth to stupidity. The calculation of that price is, among other things, the measure of a poet's worth:

When I bring you to grandmother's grave,
behind the Dacian fortress, she'll be armed
with questions: how hardy your love, how soft your fingers,
and your dead, how do you spoil them?

("How to Ask for My Hand at My Grandmother's Grave")
Remember the Dacians? Trajan does. He slaughtered them to annex the future Romania as Roman territory. Slaughter and appropriation have a long tradition, as do their more modern enablers: spying and innuendo. Moscaliuc hints that these things may even have been around longer than the tradition she wants to promote: the history of family continuity, of intimacy and close feeling.
At ten we had at least one
alcoholic parent (your father the only one mentioned),
at twelve we used few words to seal friendship,
fearing each other—anyone could be an informer
—even this baby waiting to turn in the birth canal.
(To Ovidiu, Whose Voice I Still Don't Remember")
The production of babies, unlike the production of truthful poems, was sanctioned by the Ceausescu regime in a big way, as the opening to "Destroy the Family, You Destroy the Country" shows,
When she complains to the school nurse about her bile,
—it's been filling her mouth with green anger—
she's given the prerequisite "fertility" check and found
two and a half months pregnant.
Ninth to twelfth grade
the speaker booms,
emergency assembly
,
and our uniformed bodies pleat into a perfect rectangle.
Dear comrade teachers and united young communists, as you all
know, last week a disgrace befell our school: the suicide of student
Isabela B. Volovici. Today, however, we are proud to report and act
of deep patriotism: Maria Pop has decided to contribute a new life to
our multilaterally developed society.
Unlike history, which requires the resistance of words, images, being what they are, don't require commentary, but Moscaliuc's image-driven poems run along a bias refined by a skilled hand at wielding up-to-date poetic devices. And although she peoples her poems with family, classmates, childhood friends, and teachers, she knows that one of the most history-resisting techniques is to create an identity—an individual—to oppose the mass anonymity the State required to maintain conformity and control. Hence in "Portrait":
I thicken coffee with chocolate,
language with accented mistranslations,
love with foreign words
oblong and trammeled and plum-brandied.
Conversely, the withdrawal of identity is also seen by the authorities as individual caprice and criticism. Moscaliuc celebrates the life of a fellow poet and friend through her suicide ("Suicide Is for Optimists, Cioran Said"):
When we blacklist the teachers who threaten
To fail us if we attend the funeral—
Suicide is the ultimate insult
To our harmonious communist life...
You wink in approval.
The language, like laughter, carries a burden the more frightening for the lightness of its expression, for the poet is suggesting that the suicide expresses her critique of life quite literally with her own death, and that death in turn inspires the life—the resistance—of her survivor friends. The mention of Cioran, the Romanian philosopher who lived in Paris and carried out a one-man campaign to pull away any remaining metaphysical cushions to lessen humanity's fall, alerts us to the fact that suicide also inscribes its literary criticism on the prose of time. It is "optimistic" because it hopes—or has hoped—for something better, a hope that underwrites even its exit. In "Cold War Redux," she writes,
I don't understand why history twists her own arm
but I saw her do it: eyes squinted, lips thinned,
she clipped our vocal chords, blew echoes into our gas stove.
We grew delirious with want behind the screeching Wall...
With modern poetry's derivation from such straits, it sometimes seems as if there is a more direct commerce between words and things: words "mean" more, having acquired a more dutiful heft from the things they designate. This is, again, a strategy evolved to resist the State's appropriation of the means of expression.
Father Dirt
is a case in point. Because the strategies needed to keep truth afloat are complicated, it's refreshing to see an apparently artless expression of relief, as in this from "Minds Touched by Happiness Tend to Forget Their Bodies' Sores":
How about the Christmas our breads
burned to ash in the oven: kneeling in front of the TV,
I waited breathless for the Ceausescus' execution.
When the firing squad punctured their hearts
a hundred times and they crumpled like ragged dolls,
I wept with happiness.
Even here, the artlessness is only apparent. The ashes and ovens recall the poetry of another Romanian, Paul Celan, whose most famous poem ("Todesfuge") elegizes beauties transformed to ash and smoke by the ovens, a moment in history in reaction to which the establishment of the "Iron Curtain" was itself a protracted, if ostensible, response. The journey in Moscaliuc's poem is a peculiarly Eastern European Christmas journey, from ashes of burnt bread to the gift of a triumphant retribution.
At the bottom of the poet's indelible memories are two things: the Gypsies, whose fates haunt her, and her new destiny as an American, with its attendant hauntings and hopes. In "Annunciation," she plays a bitter satire on the Biblical sign that a new, surpassing being is going to be bought into the world. As she says in a note, "In the 70s and 80s, many Roma/Gypsy women were sterilized, often without their knowledge... The children of 'unsettled' Roma were taken away and placed in state orphanages." I will quote this at some length:
When the State seized her boys
—"saved" them—she wished she'd never
had them, and when they pried out
her last "dead fish"—she didn't know
they'd scraped and clamped her
clean, blind with pain on that spilling
mattress but not deaf—"dirty sow,"
"retarded gypsy." Only later she remembered
the heat of the head crowning, the sharp cry
breaching the nurses' laughter. How she'd
touched him before they touched him,
so he may not be dead, just taken.
As for her life as an American, Moscaliuc is in the position of other artistic exiles who understand the elegiac remark of Wittgenstein, who said, "The limits of my language mean the limits of my world" In her case she says, "I want dreams that don't wade into yesterday's waters./ I want dreams in the American idiom..." While I am tempted to respond by saying be careful what you wish for, what I really mean to conclude is that here is a collection that is
not
in an idiom washed in the waters of MFA workshops (although she is the product of such a program). And that's the good news. There are too many good poems here to discuss individually, but this fact notwithstanding, I am left with the impression of a woman who has experienced a life that seems something out of the century before the century before this, full of needleworms, nettle tea, cauldrons, glass eyes, and cuckoos. There is wonder in that alone, though Moscaliuc goes way beyond that wonder to touch the moral at the end of the aesthetic reach. As if in answer to Eliot's question, "with such knowledge, what forgiveness?" a child asks in "Everything Touched by Darkness Knows Itself,"
in the name of Father Dirt
I be granted absolution until my tongue
learns the texture of rubble, the taste of clay.